The sacrifices of God are a broken spirit:
a broken and a contrite heart, O God, thou wilt not despise.
Psalm 51:17
1) to crush, be crushed, be contrite, be broken
1a) to be crushed, collapse
1c) to crush down
1d) to crush to powder
I think having a broken and contrite heart might mean to be crushed! Crushed to powder. Some might think that is a painful thing. It can be, but I don't think it has to be.
Brokenness should be a way of life. Not a "woe is me" thing, but a servant mind set that desires to meet the needs of others. A practice that daily brings you to the throne of God with a willing heart to be used however, whenever He chooses.
Brokenness means He will increase and you will decrease. It means that you are willing to be inconvenienced. It is in those inconveniences of the past two weeks, that I have seen the Lord show Himself in great ways. Drawing lost souls His way because they didn't have much time left. I love seeing Him work like that.
It means that you lay your weaknesses and faults out and don't hide behind a "holier than thou" attitude. You are constantly in a state of sacrifice.
Sacrifice.
There is that word again
. I can not get away from it. It is constantly in front of me like a carrot in front of a horse. (I need to lose weight.)
What it really means is to bring the body and soul under the control of the spirit. That process is a process of becoming WHOLE!
I am really glad it means crushed to a powder instead of pebbles or rocks. I am glad, because pebbles and rocks are difficult to work with. Powder, on the other hand, can be mixed with Water and kneaded until a lump of clay can be thrown on to the Potter's wheel. The Potter can then begin to turn the wheel and gently mold the vessel to the shape that is most useful.
There is no better place to be than in the Potter's hands. I just can't see how that is a painful thing. It is a beautiful thing.
That, my friend, is what I am learning in pursuit of brokenness.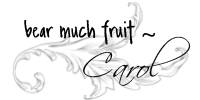 Linking up with:
Raising Mighty Arrows
,
Our Simple Country Life