The words jumped off of the page:
A dead person cannot be offended.
I have been crucified with Christ. It is no longer I who live, but Christ who lives in me. And the life I now live in the flesh I live by faith in the Son of God, who loved me and gave himself for me.
If I am truly dead to myself and alive in Christ, nothing said or done to me will be offensive to me. Nothing will hurt my feelings. Gulp.
A dead person does not harbor unforgiveness.
And he said to all, "If anyone would come after me, let him deny himself and take up his cross daily and follow me.

Words are said and feelings are hurt over and over again. Blood is flung over hearts and mud over names. Whatever wrong has been done to us, we are still to forgive. Sigh.
A dead person does not get even.
And those who belong to Christ Jesus have crucified the flesh with its passions and desires.
It is so easy to react. It is our nature, our desire, to retaliate so that the one who hurts us will be hurt. Even if we deserve to lash back, we need to put revenge in the hands of the one who says He will avenge. Whew.
I don't ever remember Jesus trying to defend Himself.
He didn't yell out at the ones who said things that were not true. He didn't strike back when He was beaten beyond recognition.
He didn't come down when He carried the load of my sin.
And whoever does not take his cross and follow me is not worthy of me.
It isn't easy, this life that requires death.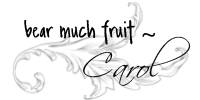 Linking up today with Time Warp Wife.