I was a little overwhelmed last night, but threw some of it up for the world to see and this morning is much better because He promises to
make my steps secure.
He promises to pull me out of the pit and set my feet upon the Rock.
Although there was little sleep, I woke up thanking Him for His steadfast love that He told me about in two different chapters this morning when I was taking Him in. And because of that I can type and breathe.
My hearts is so grateful this morning. Thanking Him for . . .
. . . three girls home safe after a weekend of sweet fellowship with other kids who love Jesus so much
. . . a camera that isn't great, but works when it's really necessary
. . . families who don't get upset when I show how great I am at being so unorganized
. . . a friend who knows when I say I'm fine I'm really not
. . . a testimony of God's faithfulness from one I've prayed for for so long
. . . lemon icing on anniversary cake
. . . gentle reminder this morning that I ate quite a bit of that icing while I was cooking for the kids, emphasis on
gentle
. . .
anniversary card with a button and rickrack on the front and words of how much he loves me on the inside
. . . a blazing fire on a cold morning
. . . my under counter ipod dock to hear worship to start off my day
. . . fresh grandbaby for special friend
. . . not knowing how to work the ipod exactly and hearing Away in A Manger several times in a row, reminding me of rocking and singing to my babies so many years ago
. . . my babies that I got to hold, and still get to hold because they came out breathing
. . . and that pink and green crown waiting for me when I pass through those gates.
It's going to be a great day.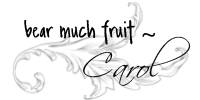 Linking up with
Multitudes on Mondays